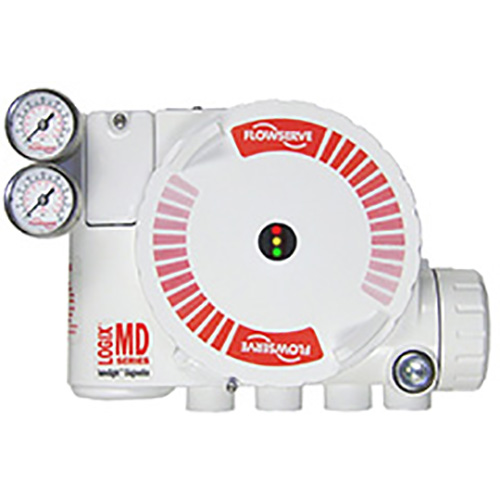 The Flowserve Logix™ 3000MD series high-performance digital positioners utilize state-of-the-art piezo technology to provide superior performance and reliability. This is accomplished through the use of a powerful 32-bit microprocessor and a proprietary two-stage electronic relay (patent pending). Among the Logix 3000MD series more attractive features are the on-board QUICK-CAL™ button, DIP switches, Jog buttons, and variable gain selector. These features allow the user to complete setup and calibration of either diaphragm or piston operated valves in a couple of minutes, without the need of additional handheld devices or software.
The Logix 3000MD series positioners offer valve status updates at a glance using the highly visible LEDs. Users can easily determine if a valve or actuator is functioning properly, and quickly diagnose any problems using the smart LED blink codes. This means that maintenance personnel can provide a visual check of the valve status without having to remove the cover or connect a HART handheld device or maintenance PC/laptop.
Predictive diagnostics is available using the ValveSight software available through FDT/DTM technology. ValveSight is a diagnostic solution for control valves that can be seamlessly integrated into most host control and/or plant asset management systems. The power of ValveSight is in the intelligent diagnostic engine which is constantly monitoring the valve, actuator, positioner and control signal for patterns of behavior t
hat may indicate a problem and provides actional advice proactively.
자세한 사항은 Catalogue(PDF)를 참조해주세요.